Asphalt Institute Foundation Receives $500,000 grant from ExxonMobil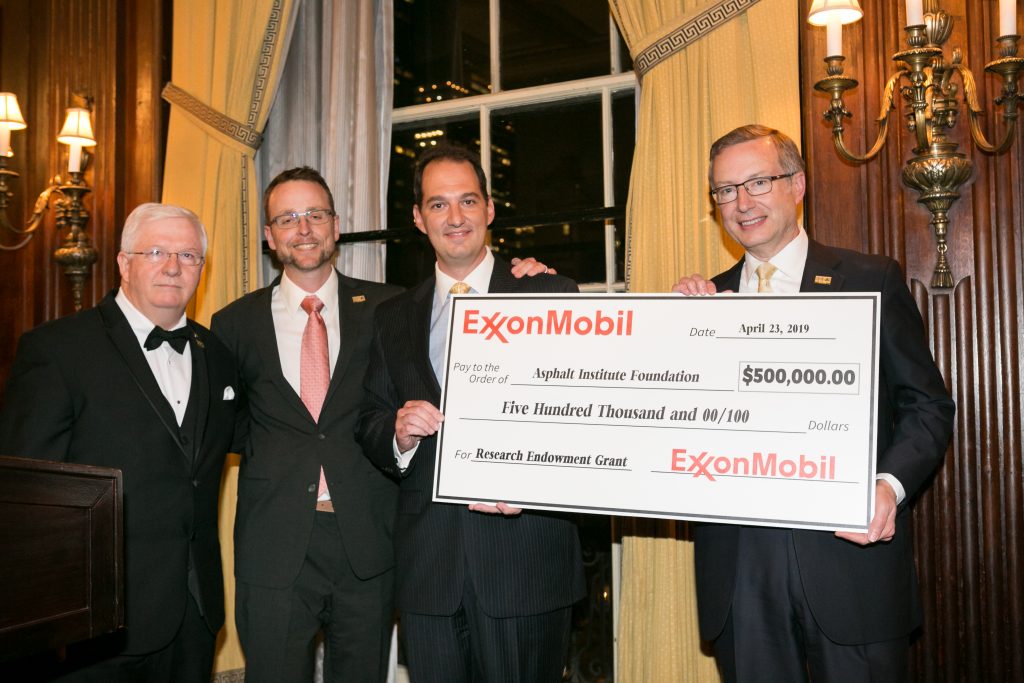 ExxonMobil and Imperial joined the Asphalt Institute (AI) in celebrating its 100th anniversary at the Lexington, Kentucky headquarters on October 9th. This milestone was marked with several presentations along with a dedication of the Asphalt Institute Foundation (AIF) courtyard with customized commemorative brick pavers.
The Asphalt Institute also announced a $500,000 research grant provided by ExxonMobil to the Asphalt Institute Foundation to conduct strategic research and carry out educational activities designed to advance the liquid asphalt industry.
"We are thrilled to accept this generous grant from our long-standing member, particularly as we mark a century of dedicated service to the asphalt industry," said Peter Grass, President, Asphalt Institute and Asphalt Institute Foundation. "ExxonMobil and Imperial's leading technical expertise and vast business experience have been imperative in helping progress the Institute's core mission. This grant brings us that much closer to achieving the next breakthrough in the liquid asphalt industry."
The ExxonMobil grant supports strategic research to improve the durability of asphalt binders and pavements while ensuring that future highways remain sustainable. The Asphalt Institute Foundation also supports strategic educational initiatives such as an internship program, textbooks for engineering students and the development of instructional aids.
Established in 1919, the Asphalt Institute today has a membership that represents over 90% of the liquid asphalt produced in North America – all of whom are committed to improving asphalt quality performance, benefits and more. ExxonMobil and Imperial are among the original founding members and were recognized for their active engagement and participation in the Asphalt Institute for the last 100 years.
"Reaching 100 years is a testament to the incredible work the association has accomplished thus far," said Ralph Shirts, Global Asphalt Technology Manager at ExxonMobil Research and Engineering. "As a founding member of the Asphalt Institute, we are humbled to be a part of the best possible science, research and education programs that will continue to push the industry forward."
Over 100 Asphalt Institute members were in attendance for the celebratory brunch and presentations along with U.S. Congressman Andy Barr and University of Kentucky officials.